---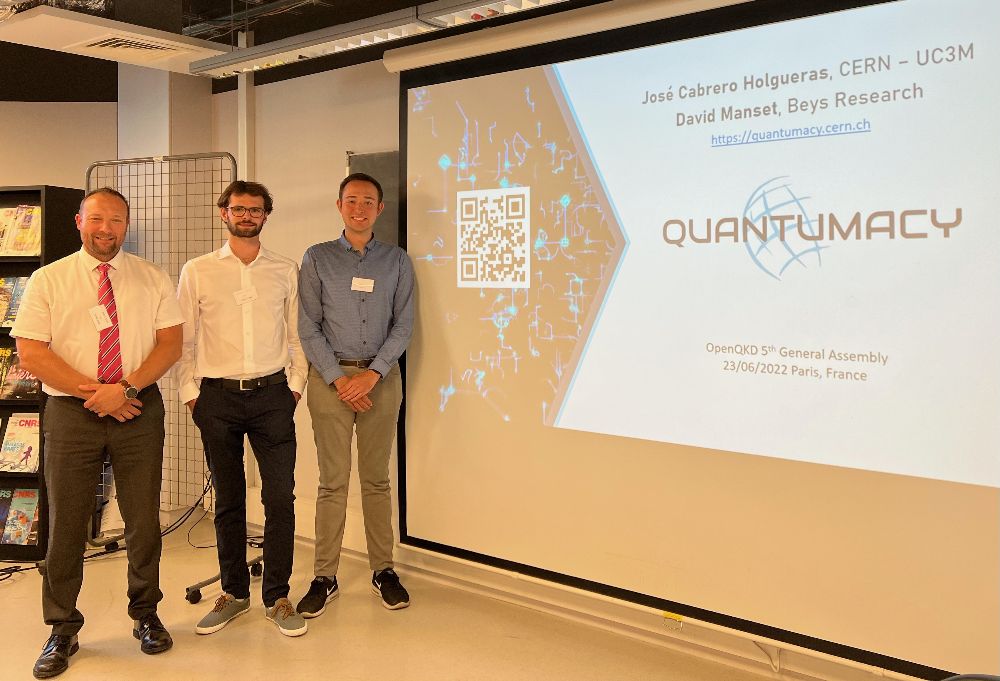 Members of the "Quantumacy" consortium met in Paris, France, last week to mark the end of a one-year project investigating privacy-preserving forms of quantum communication. The Quantumacy project involves members of CERN and Be ys, a French company specialising in digital trust. The project was carried out through the European Commission's Open European Quantum Key Distribution Testbed (OpenQKD), with support from CERN openlab, the CERN Quantum Technology Initiative (QTI), and Be ys researchLab. Additionally, it is aligned with the strategy and framework applicable to knowledge transfer by CERN for the benefit of medical applications.
 The project was presented on Thursday 23 June at an official meeting of the OpenQKD project.
Emerging quantum communications technologies offer significant potential for data privacy. However, there are many challenges which must first be overcome to unlock this potential in full. CERN's experience with quantum technologies can play an important role in this work.
Over the past year, this short, investigative project has worked to build a proof-of-concept platform for developing privacy-preserving quantum-communication technologies. These include:
Quantum key distribution (QKD): a method that capitalises on quantum mechanics for exchanging encryption keys between specific parties.

Homomorphic encryption: a form of encryption that allows computation to be performed directly on encrypted data without requiring access to a secret key.

Federated learning: a machine-learning approach that permits devices to collaboratively learn without the need for sharing data across devices.

Blockchain: a technology which enables transparent and secure transactions of sensitive data.
Specific use cases were devised to test each of these technologies. For example, building on CERN's collaboration with the Seoul National University Bundang Hospital in South Korea through CERN openlab, the project tested ways to use QKD to protect personal medical information shared between medical practitioners online.
As part of the project, CERN also gained test access to a real QKD link with the Swiss Company ID Quantique. Full information about the work carried out through the project can be found on the new quantumacy.cern.ch webpage.
"This project has helped us to better understand the potential impact of quantum communication and privacy-preserving technologies on data analysis with sensitive data," says Alberto Di Meglio, head of CERN openlab and coordinator of the CERN QTI. "The knowledge gained from the project will now feed into further investigations to be carried out through the CERN QTI."
"Quantumacy allowed us to implement and test our General Data Protection Method (GDPM) patent whereby data carries its processing purpose thanks to a combination of QKD and homomorphic encryption, demonstrating a possible shift in the way data is professionally processed every day, towards Web 3.0" says David Manset, CEO Be ys Research.
- Andrew Purcell
Collaboration Members